Thanks to the exceptionally skilled and multilingual workforce, Brussels is an attractive location for international businesses. It makes Belgium a hotspot for sales professionals with international ambition.
Brussels has become a global center thanks to its strategic location in Europe and its role as the home of the EU and many other international organisations. It should come as no surprise that many multinationals that have opened offices in the city. Brussels enjoys an exceptionally skilled and multilingual workforce, well-developed transport infrastructure, a world-class business climate and a very high quality of life. One hour and a half by train from Paris and just under two hours from London, Brussels offers much lower property costs than either of those cities, another reason why so many businesses have established their European operations there.
Exports account for around 74% of the Brussels-Capital Region's GDP, with imports totalling around 73%. It makes the city an attractive destination for sales professionals who are looking for an international career. According to a survey by PageGroup, almost 25% of all sales specialists who are willing to relocate see Belgium as an attractive location. Anyone who wants to land a job in sales with one of the international companies in Brussels must keep in mind that multilingualism is the standard.
Emerging Markets in Sales
The survey suggests that pioneering sales professionals are capitalising on the huge growth potential of emerging markets more than ever before; with the international playing field wide open for a career in the sector.
Due to their well-established market economies and deep connections to global supply networks – alongside links to historic trading partners – England, Canada, the U.S. and Spain are topping the boards, with the latter additionally benefiting from deep linguistic and cultural ties to the Americas.
Asia as a leader
Digital channels are key for the global sales sector, with online retail expanding 19% year on year and accounting for 9% (2 trillion EUR) of the global retail spend of 23 trillion EUR. In China, 18.4% of retail sales were online in 2016, contrasting with just 6.7% of Japanese, and 15% of the total UK retail spend. There remains significant differences in national and regional take-up of mobile, tablet and desktop e-commerce platforms.
Asia Pacific (APAC) stands out as the global driver for ecommerce spending and growth: China alone represents 47% of worldwide retail ecommerce, and the region is set to more than double its online spend by 2020 to 2.3 trillion EUR. However, China is notable by its absence in the PageGroup list of top 30 countries for sales profiles to show interest in moving to, coming in at 44th place. This suggests that despite being a global sector, a big impact point of sales remains on a local level.
North America is second in real terms of spend, topping 460 billion EUR, while Continental Europe comes in third, with the UK a close fourth. That the UK, a market of 62 million people, is just behind Europe highlights the need for localisation and personalisation of the 'hard' end of the sales pipeline – and where huge growth lies for companies that can bridge the gap between product, sales and the consumer.
Accessing growth
To close the gap between global supply chains, the multinationals that operate them, and the end consumer, companies are looking towards science and channel convergence to drive them forward.
The practice of using physical stores as showrooms to allow for less stock wastage is growing in Asia, UK and most recently in the US, where the fastest growing retail segment is people over the age of 55 years, who have different expectations from the in-store sale experience.
As the sales pipeline becomes increasingly data-driven, the method of putting consumer and product together will change, as will the point that the human element enters into the selling process. Information on previous purchases, on current trends, live pricing, and satisfaction surveys will all affect the interaction of sales and consumption.
Ranking global hotspots for sales professionals
For Trend Watch PageGroup surveyed 18352 job seekers worldwide, who applied on our Michael Page and Page Personnel websites during the 3rd quarter of 2017. Of the 1999 sales professionals who participated in the study, 59% were willing to relocate, for job opportunities, a better salary or a different lifestyle.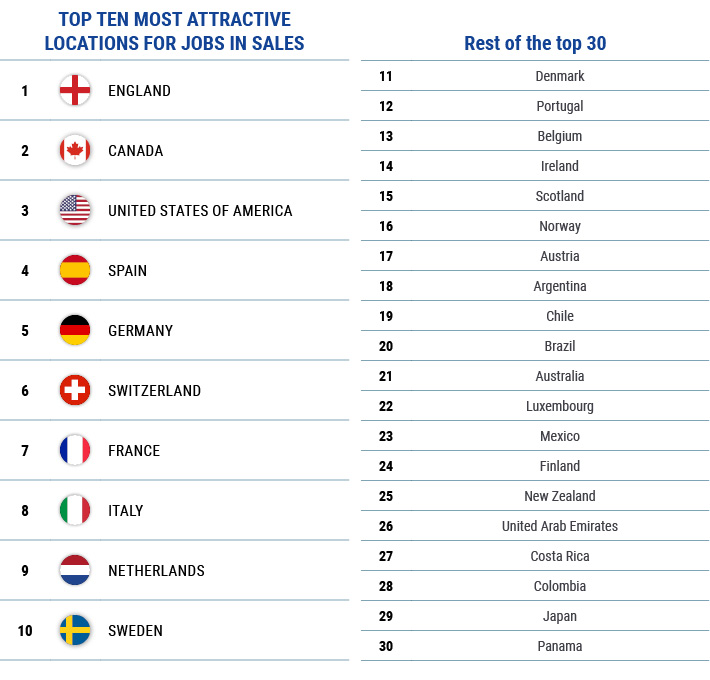 Find out more about the other sector trends
Are you looking for a job?
Find the best offers on our website.
Apply now
Salary Survey
Key insights on salaries by sectors and market trends.
Discover more